SRS Blueprinted 411
"SRS has been a part of our racing program since 2004 when Jake finished 2nd in his first KART National. Through the years SRS engines have always delivered, so for the "fastest S5 Shifter driver in the country" Jake French Racing will stick with SRS power!"

Mark & Jake French  
Sunday, 22 November 2015 00:00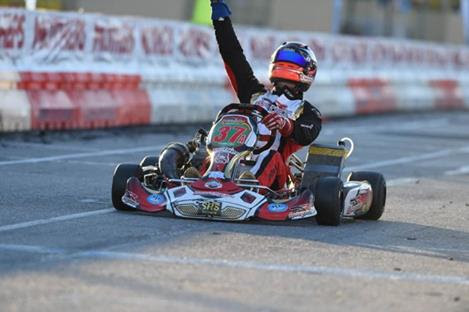 The mild dry days provided the setting for great racing during the SKUSA Supernationls XIX at the Las Vegas Convention Center. With the weather variable eliminated all the capabilities of the driver, kart and engine could be put to the track test. The Danny Formal, SRS Engines, DRT team passed the test with high marks.
DRT and Formal put the chassis on rails during the practice the sessions while the SRS engine jetting for the track and weather conditions was learned. Then after practice maximum performance was unleashed for qualification. At the end of the qualifications in a field of past Supernats winning teams and drivers Danny sat at the top of S1 by nearly 3 tenths of a second.
In the first heat Danny jumped into the lead and finished out front by over 2 seconds. In heat 2 Danny jumped into the lead at the green flag and was never challenged. He went on to win heat 2 and set the fast lap time without the aid of a draft. Heat 3 was a repeat of heat 2 with Danny jumping into the lead and remaining unchallenged for the win and fast lap time again.
In the Super Sunday S1 Main event Danny showed everything the driver-kart-engine package had to offer and brought home the unchallenged win with a 3.7 second lead over second place and the S1 fastest lap time of 49.296 seconds.
SRS is proud to have been chosen to power Danny Formal and the DR kart to win all S1 heats and the main at Supernats XIX.